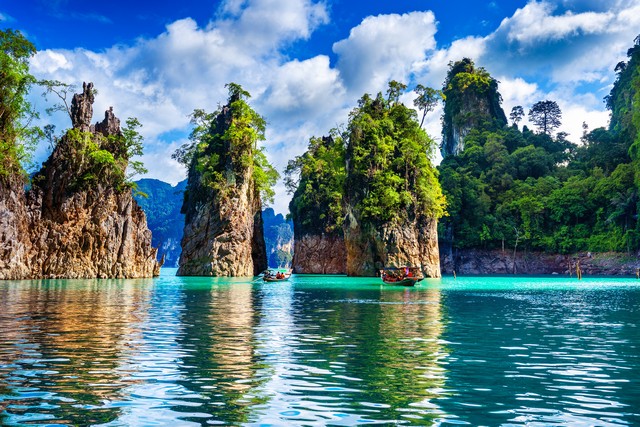 Scenic of the beauty at Cheow Lan Lake (Ratchaprabha Dam)
Ratchaprabha Dam or Cheow Lan Lake sets in Khao Sok National Park, Surat Thani, the largest area of virgin forest in southern Thailand and is one of the world's oldest and most biodiverse rainforests. Besides being the most popular sight of Khao Sok it is also one of the top destinations in Thailand. Rich in natural resources including verdant rainforest which lies in between the limestone cliffs, beautiful rivers, diversity of ecosystem and tranquil atmosphere resulting this to be the best hide away paradise for anyone who seeks relaxation.
About the Cheow Lan Lake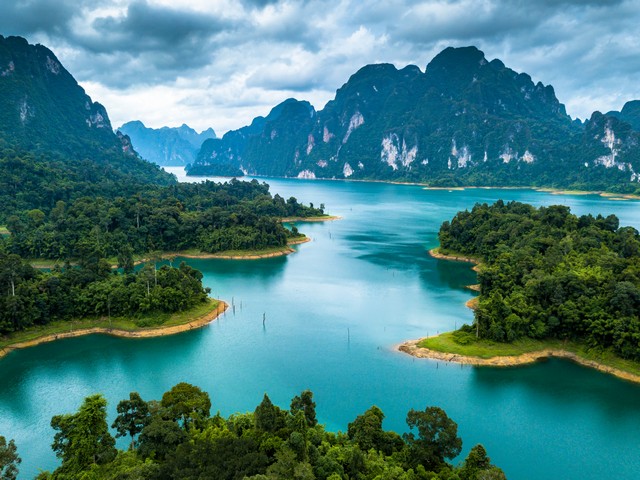 Ratchaprabha Dam or former name is "Cheow Lan Dam" is a second all-purpose dam in South of Thailand. After completion, it was renamed by HM the king Bhumibol to "Ratchaprabha Dam" which means "the Light of the Kingdom". The Ratchaprabha Dam blocks off the Klong Saeng River, in Surat Thani and most of its connections to the Khao Sok National Park. The 94-meter high dam has 185 cubic kilometers and provides 554 million kilo watts of electricity per annum. So, it has become a major source of electricity in southern of Thailand and also the tourism location.
Attractions in Cheow Lan Lake
1. Cheow Lan Lake
The most attractive spot of the Ratchaprabha or Cheow Lan Dam is a stunning landscape of endless emerald-like lake, charming mountains, and rolling foggy sea therefore many people call it as a "Guilin of Thailand". Notwithstanding, many tourism entrepreneurs within Cheow Lan district are campaigning to use the name "Ratchaprabha or Cheow Lan Dam" or Cheow Lan Lake more because this place has its own uniqueness and beauty. The place has been more popular as a wish-list destination and magnet to many travelers from around the world.
Taking trip here the visitors are able to do both one day trip riding tour by boat or an overnight stay at Cheow Lan rafthouse where a lot of operator provides good accommodations both from the National Park office and private ones.
The accommodation run by the National Park for example "Pae Nang Prai", a classic and budget rafthouse and "Pae Klong Ka" which was renovated to be as good as private operator's in particular the lovely atmosphere at the rafthouse area which is hard to resist for its beauty.
On the other hand, the private accommodation lead by "Pae 500 Rai", a high-end rafthouse which offers you a truely privacy, calm and relaxing experience surrounded by allure of nature and fine service including a swimming pool as a result Pae 500 Rai is very popular among the tourists with a huge number of booking.
2. Sailing Tour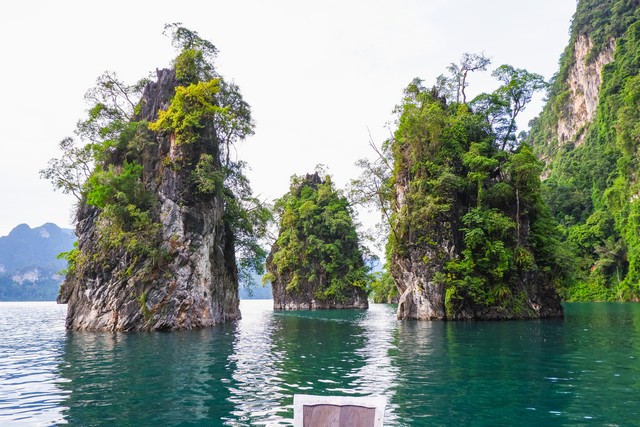 There is an array of activities to do while you are visiting at Cheow Lan Dam and a highlight is 'Sailing Tour' to see and enjoy fantastic natural scene of rainforest, towering stone mountain and clear water. And the highlight of this activity is at the spot called "Guilin of Thailand" where is plentiful limestone mountains in various forms standing over the water to welcome any visitors.
Around this area there is a star of the dam which is "Khao Sam Kler" which means the Three Companions. A group of 3 small-size mountains is as a symbol for the Ratchaprabha Dam. So you must check out this spot to complete your tour.
And not far from the Khao Sam Kler is the location of "Khao Indian Daeng" or Red Skin Mountain which was named from its form plus imagination of the beholder. And another sensational site is "Na Pha Ying Sao" or the Lady Cliff, a large cliff with natural embed looks like 2 ladies upon the cliff which needed an imagination to see as well.
In addition, a boat trip to witness a heart-taking view at dawn around the Cheow Lan Lake is also served by the accommodation in general. In the morning around 7am when the boat departs from the rafthouse, it is a time we can linger and indulge the charming and peaceful of natural beauty which cuddles us. Moreover, for any lucky day which has more than a 70% of chance, the visitors may see the hornbills are soaring in the sky as well. Therefore, it can be one of charming memory ever.
3. Others
Apart from the those mentioned previous, there are many more recreations to enjoy which are;
3.1 Sight the view of Ratchaprabha Dam
At this spot, you will see an aesthetic view along the dam, lake, viewpoint, photo signage and the exhibition of HM the King Bhumibol visited and opened the dam on September 30, 1987.
3.2 Pad-Siean Waterfall (Eight Immortals Waterfall)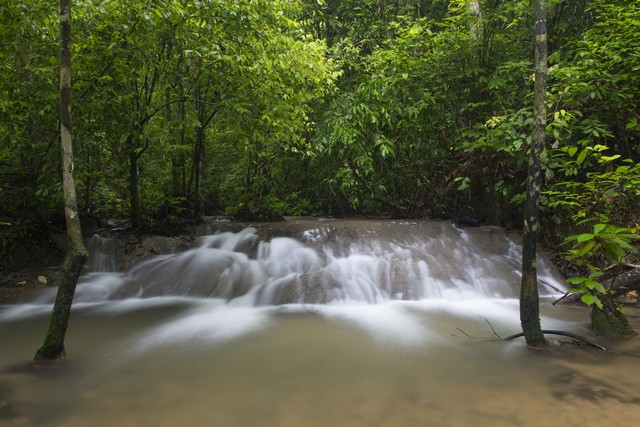 This is a limestone waterfall within the lake area, surrounding from cool and pleasant verdant forest. So-called the peak season with plentiful of water to play is during September – October when it is not too difficult to access and a lot of photogenic spots as well as there are several pools for you to enjoy like natural spa in the wood.
3.3 Explore the Caves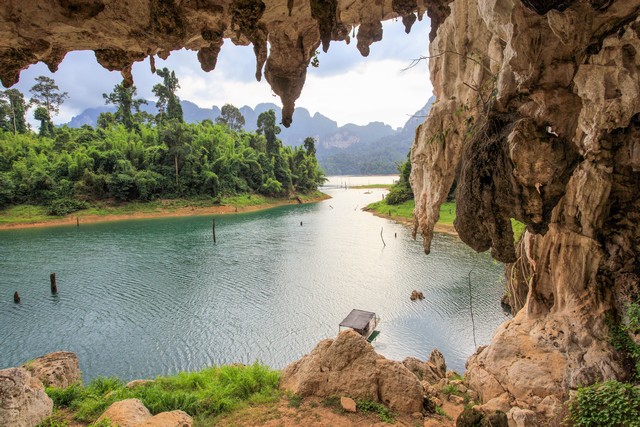 The Interesting cave to visit in Cheow Lan Dam is "Nam Ta Loo Cave" where needed to wade in, anyway it will be your regret if you will not check-in here. And this cave is accessible only draft season when the tide is low. "Pra Kay Pet or Diamond Cave" and "Pa Ka Rang or Coral Cave" which are abundant of stalagmites particularly at Pa Ka Rang Cave is the great tourist destination with a lot of geographic style in there with stalagmites, dripping water, and sparkly things. And it is a good idea to bring a torch with you as it is dark inside the caves.
3.4 Sailing into Khlong Saeng Wildlife Sanctuary
This is an original water source of the Cheow Lan Lake where allows us to witness the rare species of wildlife such as bull, elephant, wild boar, dusky langur. And this is a good presentation of abundant ecosystem of this place.
3.5 The Krai Son Viewpoint
It is a 2-kilometer wilding and tough trekking route especially climbing on the sharp limestones. However, a stunning panoramic view of greenish rainforest, rolling mountains and delightful river is worthwhile.
3.6 Kayaking and playing in the water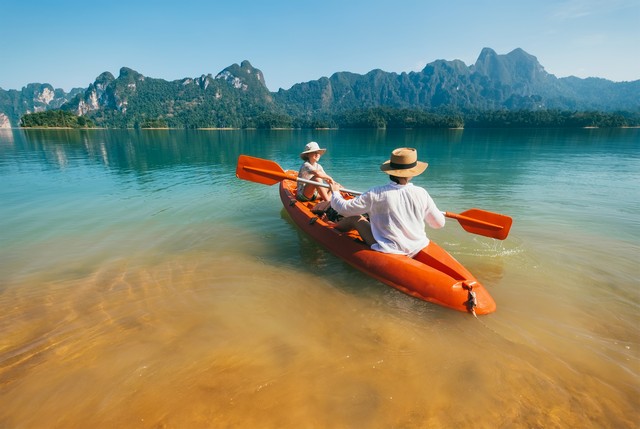 Enjoy kayaking, playing water or even chilling on the raft are deserved while you staying at this place. For one who seek for a peaceful for your mind and body it is perfectly because most of area around the dam is no mobile and internet signal which allow you to hide away and indulge the moment truly.
Late but not least, each site of the rafthouse needed to take the boat thus it is important to prior check with the operator that the price is included boat fare or not. And the tourist is able to contact the operators for more information directly.
Staying on the raft at Cheow Lan Lake, there is a limitation for electricity consumption in some place, therefore torch is something you should take as well as your personal medicines and necessity especially mosquitoes repellent.
How to get Cheow Lan Lake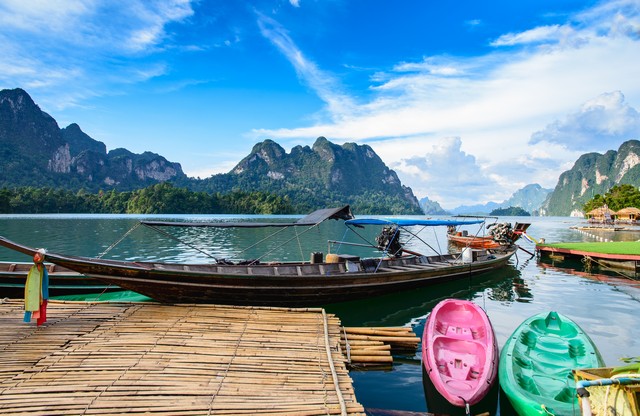 There are many option for you to travel to the Cheow Lan Lake which are;
By Car:
From Bangkok drives pass Prachuap Khiri Khan and Chumphon until arrive at Surat Thani then head along the highway number 41 to Phun Phin district junction, then turn right into the highway number 401 and head towards until spot the signage to go to Ratchaprabha Dam (Cheow Lan).
By Plane: From the Surat Thani Airport, the visitor is able to take a taxi or take Airport Bus to get to Surat Thani town and then get on the van route Surat – Ta Khun – Ratchaprabha Dam at Kaset 2 market terminal, price is THB150/each to go to the destination.
By Bus:
Departs from Southern Transport Terminal, take the bus to go to Phuket or Phang Nga and drop off at the entrance of Cheow Lan Lake at Ban Ta Khun district, this takes time about 10 hours. Mostly the tourist will take the bus of Phuket Central or Phuket Travel with 24-VIP seats with price is THB1,000 or 32-seats with price is THB700 and notice to the bus that you will get off at Cheow Lan Lake. The bus is operated during 7.00-8.00pm and arrive at Ban Ta Khun district around 6.00am. Then get the motorcycle taxi to get to the National Park.
Departs from Ban Ta Khun district by take bus at the terminal to go back to Bangkok.
By Train:
There are many train commutings between Bangkok – Surat Thani daily both express and regular and get off at Phun Phin Station, then get on the bus route Surat Thani – Ta Kua Pa – Phuket. The first bus departs around 6.30am and then there are many buses available every hour. You can drop off at the 109th kilometer at the gangway to the Cheow Lan Lake and then walk or get motorcycle taxi to the National Park office.
Best time to get there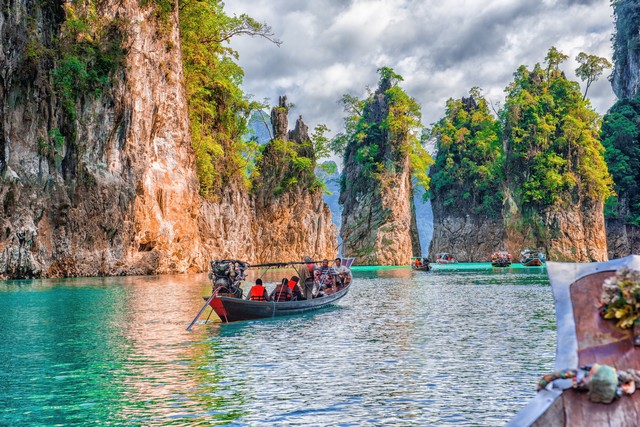 The so-called wet season is between late April–December. The temperature ranges from 22–36 °C all year round. Humidity and warm temperature provide the optimal environment for a rich eco-system in this tropical rain forest.
Actually, the Ratchaprabha Dam is ok to visit all year round depends on your preference that what kind of weather you would like. However, it is quite hot during summer but the sky is clear. So, it is perfect for photo opportunity. In rainy season it is fresh, greenery and foggy moreover there is not too crowded. And in cold season around end of the year with cool breeze and of course this is peak season as well.
Accommodation and facilities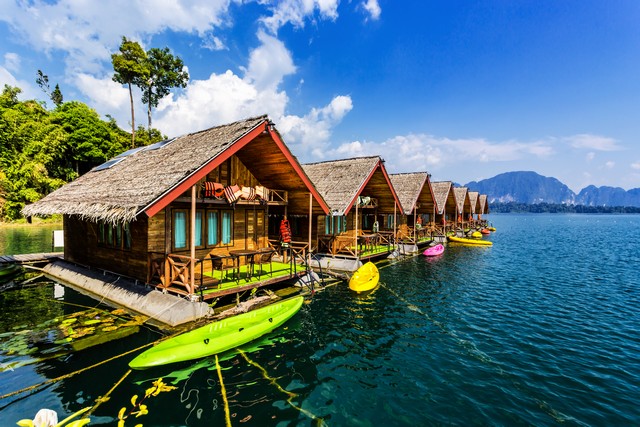 There are varies of accommodation which are;
An accommodation at Ratchaprabha Dam area: There are rafthouse style accommodations operated by Khao Sok National Park Guard. The price of accommodation included meal is THB500 per head. To get there is by boat service available at Rim Kaeng Pier and the price depends on the distance of accommodation location. For whom interesting to stay should make booking in advance. For more information and online booking at http://portal.dnp.go.th/
An accommodation operated by Electricity Generating Authority of Thailand with fully facilities – standard 18-hole golf course, river cruise, 200 rooms accommodation and the price is between THB800-4,500/night. For more information can contact at +66 7724 2560-1 ext. 5008 during operating time.
A rafthouse operated by private entrepreneurs. There are plenty of private rafthouse style accommodations as well as hotels and resorts located nearby the area of Khao Sok National Park.